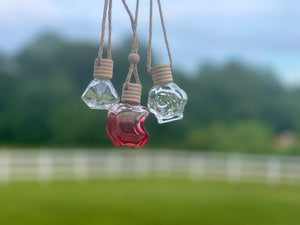 Diffusers are a simple way to freshen up your car or closet. Just hang and go! Each diffuser comes with 1 oz of fragrance which is enough for three to four refills.
Alexa, Fold the Laundry:  The fresh clean detergent fragrance infused with a tropical blend of sweet floral and exotic fruits.
Domestic Diva: Luxurious sun-bleached linen wrapped in lemon and white tea infusions.
Girls Trip: A fun, exciting mix of mandarin, lime, tangerine, kumquat, watermelon, green apple, cantaloupe, and honeydew melon.
O Christmas Tree: Inspired by the popular Christmas tree, O Christmas Tree has mild citrus top notes, earthy undercurrents, and a woody, fir balsam core that makes you think Christmastime.
Pumpkin Pecan Waffles: A rich, warm buttery pecan vanilla fragrance with a hint of cream and maple.
Unapologetically Dope: An eclectic fragrance that blends together contrasting notes of sage, lavender, bitter almond oil, tonka bean, orris, and dark leather. Unique and one of a kind.
Woosah: A relaxing blend of freshly picked lavender flowers, juicy citrus, and a woodsy base notes.