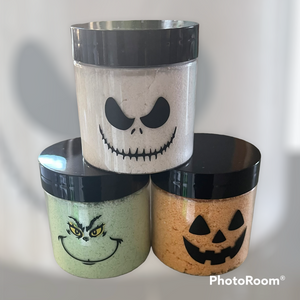 A fun Halloween treat or stocking stuffer just in time for the holidays! Make bath time fun! Mean
The pumpkin is scented in jellybeans, Mean One is fragranced in Fruit Rings and Just Jack is scented in Monkey Farts.
Packaged in 4oz jars.
Sprinkle under warm running water.
Keep out of reach of small children. If in contact with eyes or ingested, seek medical advice.
Ingredients: Sodium Bicarbonate, Epsom Salt, Sodium Lauryl Sulfoacetate, Citric Acid, Arrowroot Powder, Cocoa Butter, Cream of Tartar, Shea Butter, Polysorbate 80, Fragrance, Mica Powder